TaDah falafel is a popular product style falafel that has received positive reviews from many people. This blog post is about the ingredients, nutrition, taste, and more of this delicious product.
---
What is TaDah Falafel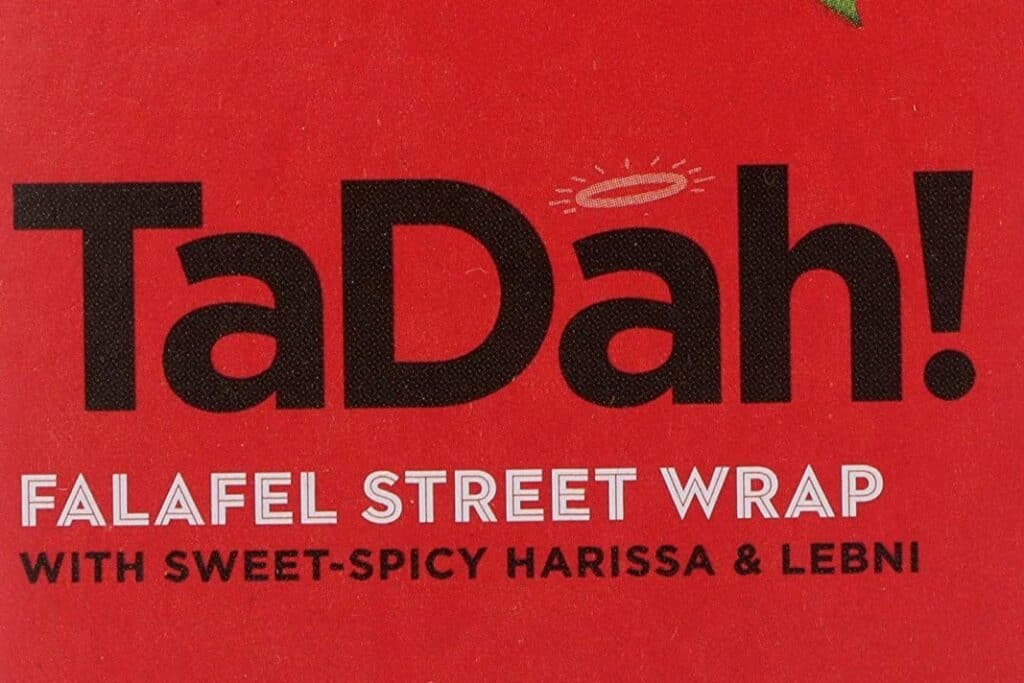 The falafel and the silky, creamy filling go well together. TaDah uses top-notch ingredients in each of their wraps, as is evident.
Although we believe that this wrap is a great option for lunch, you shouldn't count on it to fill you up. TaDah only makes small-sized wraps. Without a side dish, you can feel hungry after eating this. The major drawback of this otherwise excellent wrap is that you want to feel satisfied after consuming 430 calories.
Despite this significant flaw, TaDah's wraps are all delicious and worth trying. You'll adore these wonderful falafel dishes whether you choose the lemony dish or the spicier wrap. There are no other wraps like TaDah's in the freezer section.
Details product:
Lemon Garlic Hummus in a Tadah Falafel Wrap
Vegan, 7.5-ounce entree with 14 grams of protein and 11 grams of fiber
Fresh garlic, lemon juice, olive oil, salt, pepper, cumin, and tahini are all added to ground chickpeas (ground sesame seed paste)
Fresh lemon flavor that is tart and creamy garlic flavor
---
Best Ingredients for TaDah Falafel
Falafel: Chickpeas, Water, Green Onions, Cilantro, Parsley, Garlic, Spices, Salt.
Filling: Water, Chickpeas, Tahini (Crushed Sesame Seeds), Lemon Juice, Extra Virgin Olive Oil, Garlic, Salt, and Spices.
Tortilla: Whole Wheat Flour, Water, Wheat Flour (Enriched With Reduced Iron, Niacin, Thiamine Mononitrate, Riboflavin, Folic Acid), Sunflower Oil, Salt, Leavening (Corn Starch, Sodium Bicarbonate, Monocalcium Phosphate).
---
Nutrition Facts for TaDah falafel
If you're looking for a healthy and tasty vegetarian meal, then look no further than TaDah falafel. It's made with all natural ingredients and is high in fiber and proteins. It's also low in calories and fat, making it a great option for snacks or meal replacements.
Plus, the flavor is amazing – so you'll never get sick of it! If you're looking to improve your health and eat something delicious at the same time, give TaDah falafel a try. You won't regret it!
Here's the details:
Serving Size: 213 g
Serving Per Container: 1
Amount Per Serving:
Calories: 410
% Daily Value*
Total Fat 16g (20%)
Saturated Fat 1.5g (8%)
Trans Fat 0g
Cholesterol 0mg (0%)
Sodium 780mg (34%)
Total Carbohydrate 57g (21%)
Dietary Fiber 11g (40%)
Sugars 4g
Added Sugars 0g (0%)
Protein 14g
Potassium 400mg (8%)
Vitamin D 0mcg (0%)
Calcium 150mg (10%)
Iron 4.7mg (25%)
* The percentage of daily values is based on a 2,000-calorie diet.
---
Taste and Reviews of TaDah Falafel
There's no denying that falafels are one of the most popular Middle Eastern food items on the planet. And for good reason – it's delicious, healthy and perfect for any occasion. Made with fresh ingredients, TaDah falafel is a filling and nutritious meal that will leave you feeling satisfied. Plus, the taste is amazing – so everyone will love it! So what are you waiting for? Give TaDah falafel a try today!
A 7.5 ounce sweet and spicy harissa falafel wrap, with no preservatives or rgbh/bst – Non-GMO. It has 9 grams of fiber & 13 proteins. The taste is wonderful, a little spicy, but not overwhelming. We love them!

Estelle Hasert
These are great. I would buy many for lunch at work but they have an order limit cuz the owner isn't really a business guy and pretty much just gave his business to greedy investors

Bill Moses
---
Falafel Recipes From All Over the World
If you're a fan of falafel, you'll love these recipes from all over the world. Falafel is a popular Middle Eastern dish that's enjoyed by people of all cultures. There are many variations of falafel, but they all have one thing in common – they're delicious!
The ingredients and spices used to make falafel can vary from country to country, so it's important to find the recipe that best suits your taste. One of the best falafel restaurants in town is TaDah, so be sure to try it out for yourself!
---
Conclusion
TaDah falafel is a delicious street food product that is gaining popularity all over the world. In this blog, we will discuss the ingredients, nutrition, taste, and more of this delicious falafel. We hope you enjoy reading and find this information helpful when making your next TaDah falafel purchase!