Are you looking for the best Bloomington Indiana catering? Looking no further than the food truck for catering? We offer amazing dishes from Indianapolis' top food trucks, all at a fraction of the price of restaurants. Book today and enjoy delicious, high-quality food at a fraction of the cost!
You may also like this article: The 9 Best Middle Eastern Caterings & Restaurants In Bloomington Indianapolis – Types of Food
---
Bloomington Indiana Catering
Cynthia Moriarty Catering
I think of my catering company as an extension of my home kitchen, where family and friends gather to eat healthy and delicious food; a place where people feel taken care of and comfortable.

Cynthia Moriarty Catering
Address: 2361 W Rappel Ave, Bloomington, IN 47404
Website: cynthiamoriarty.com
Phone: (812) 345-3510
In her expansive kitchen at the Bloomington Cooking School, Cynthia Moriarty, a caterer in Bloomington renowned for her gourmet fare and exquisite presentation, is accustomed to preparing meals and baking goods for large gatherings and important events.
It would therefore be simple to assume that her kitchen at home is likewise roomy, complete with islands, sparkling stainless steel appliances, and cutting-edge technology. But the opposite is actually true. Moriarty doesn't even have a dishwasher or microwave in his tiny, cramped kitchen.
Moriarty and Tom Frohman put remodeling the 11 × 12-foot kitchen at the top of their priority list when they purchased their ranch house close to Bryan Park in 1987.
"The original kitchen had two entrances and room for a small eat-in table. It had very little counter space and was very dark. The first thing we did was put in a skylight," recalled Cynthia, who trained in Paris, France, at La Varenne Ecole de Cuisine on a Julia Child Fellowship. "When we did an extensive renovation, we closed off the entrance to the hallway and widened the doorway to the adjacent dining area. Larry Ferree designed the cabinets to my specifications. My big concern was to house all of my appliances in cabinets, due to the limited counter space."
Garnish Catering
Address: 3116 Canterbury Ct, Bloomington, IN 47404
Website: garnishcatering.com
Phone: (812) 333-0999
The core team at Garnish has more than 45 years of combined expertise in the culinary industry. Each of their customers is looking for the highest level of culinary inventiveness and service, and they come from the corporate, private, and governmental sectors.
Garnish has been added to various recommended caterers lists throughout the state of Virginia, swiftly garnering recognition for the superior service we deliver to their clients.
More than just the quality of the culinary and service we can offer, being named to serve these venues' patrons is a testament to our staff's passion for recognizing and protecting these facilities for present and future visitors.
The members of our staff agree that we are lucky to work in these settings and be able to both show off and appreciate their surroundings.
Garnish is also eager to provide a hand and give back to the larger Richmond community. To assist their missions, They have already joined with a large number of non-profit organizations to achieve this.
Indiana Memorial Union Catering
Located in: Indiana Memorial Union
Address: 900 E 7th St #017, Bloomington, IN 47405
Website: imu.indiana.edu
Phone: (812) 855-1777
Specialties
Your event can benefit from a full range of top-notch catering services from Indiana Memorial Union Catering, which is supported by a skilled and knowledgeable team and a fun and imaginative menu. They are pleased to collaborate with you to cater a range of events, including social gatherings, conferences, and corporate events as well as wedding receptions. They can deftly create delectable food alternatives to suit a variety of dietary restrictions.
It was founded in 1909.
Whatever you choose for your special occasion, Indiana Memorial Union Catering can offer you a full range of top-notch catering services supported by a qualified crew who work with original and enjoyable cuisine.
They are pleased to collaborate with you to cater a range of events, including social gatherings, conferences, and corporate events as well as wedding receptions.
Eleven spaces, including Alumni Hall, Federal Room, Frangipani Room, Georgian Room, KP Williams Room, State Room East and West, and Tudor Room, are available at the Union and are perfect for fully catered gatherings.
Their culinary staff has produced an infinite Menu Guide and is capable of providing catering for on- and off-campus events outside of the Union.
Read more on our blog: Catering in Bloomington IN – How to Choose the Best One
---
The Best Bloomington Food Truck Catering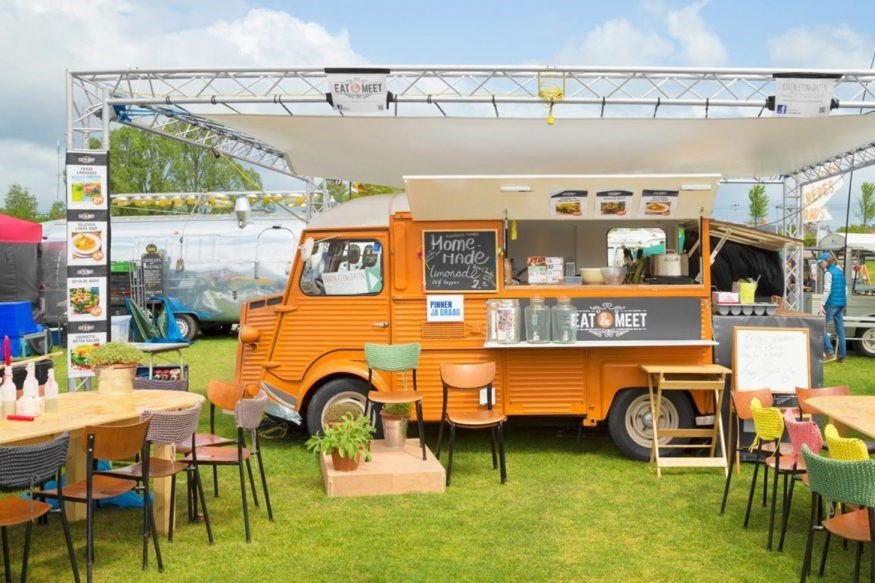 Looking for delicious food that won't break the bank? Look no further than Bloomington food truck catering! These trucks offer delicious, affordable food that's perfect for any occasion. Be sure to check out their menus online or on social media before making your reservation, as they often have special offers or menu changes. There are many great food trucks in Bloomington, so it's hard to choose just one!
BarisGo Coffee
Bloomington can now get some very excellent coffee on the go thanks to BarisGo Coffee. That's accurate. A food truck that knows exactly how to get you going in the morning is now available for you to have a genuinely eye-opening experience on the streets. or really pick you up in the afternoon.
Offering daily freshly brewed coffee made from their hand-picked locally roasted coffee beans, you can expect unique drinks that are exceptionally tasty.
No matter what you order, including lattes, cappuccinos, mochas, and more, it's all fantastic if you get their powerfully flavored espresso. That's not all, though.
They are bringing a full coffee shop experience on wheels, complete with a cozy atmosphere and first-rate customer service, as well as a special caffeine-free menu for youngsters and a variety of fresh pastries.
Why are you still reading this if all of this appeals to you? Find BarisGo Coffee when you're out and about in Bloomington, or ask them to cater your upcoming event with top-notch beverages. It truly is that excellent.
You should try:
Cold Brew: steeped for hours, this potent beverage is sure to wake up your senses and carry a powerful punch to your tastebuds.
Urgent Foods
This thoughtful group has merged Southern California's attention on the environment and health with Balkan recipes to provide hospitable service and excellent food to the Indianapolis streets!
Their delicious cuisine includes plates, kebabs, sandwiches, and hamburgers, all of which are bursting with flavor.
You will have an emergency-level craving for everything on the menu, from The Fight Club sandwich (with tender chicken tenderloin, crispy bacon, pepper jack cheese, an onion ring stuffed with guacamole, and a zesty jalapeno spread) to the DaBurga' Plate (a big, hearty burger served with sweet baked beans and creamy macaroni salad).
Creative Carvers
Sandwiches are the perfect way for Creative Carvers to appease Bloomington, Indiana's ravenous diners. We are aware. They typically just get packed lunches, so their reputation isn't great. However, Creative Carvers is taking the ordinary sandwich to a whole new delicious level.
Considering that they are not merely assembling sliced bread and deli meats. No, these carvers are creating premium sandwiches that are a cut above the rest utilizing bread that is baked fresh every day and meat that is sliced directly from the source. You may choose from a wide variety of dishes at Creative Carvers, including Italian beef and the meatiest turkey bacon club. Classics like roasted turkey and ham and cheese are also available.
Each is topped with a generous amount of fresh toppings, and the meat portion is also not skimped on. However, Creative Carvers has more to offer than just that.
The menu also includes a substantial burger and taco salad to liven up your midday break, which is why they are known as inventive. So why are you still waiting? Find Creative Carvers in Bloomington and elsewhere by searching the streets. Believe us. You and Indiana have never experienced anything greater.
Meatball Sub: For a hearty lunch, freshly baked hoagies are stuffed with homemade meatballs, marinara sauce, and melty provolone cheese.
La Poblana
In Bloomington, Indiana, La Poblana is without a doubt the most genuine taco truck you'll come across. Where did we learn this? These skilled chefs have, in fact, carried all of their recipes from Puebla, Mexico, with them, and they've used imported spices and ingredients that only enhance the regional flavor.
A full Puebla kitchen on wheels has been constructed at La Poblana, bringing a ton of spicy food along with it. Get tacos filled with the meat of your choice and topped with chopped cilantro and onions the way they were meant to be eaten. Or order a big ol' burrito filled with the same delectable ingredients: rice, beans, cheese, chicken, al pastor, carnitas, and carne asada. That's not all, though.
Tortas, quesadillas, chilaquiles, and even homemade tamales are available here. So why are you still waiting? La Poblana can help you spice up your day the correct way. You may also hire them to cater your next event. It's a surefire path to some spicy delight in either case. Guaranteed.
You Should Try
Freshly made Mexican bread known as a "ham torta" is topped with lettuce, mozzarella, tomatoes, onions, refried beans, and mayonnaise.
Sweet Valley Ice Cream
The Brown-Hill family is serious about its ice cream. They don't have the patience to eat pints of store-bought ice cream that is flavored artificially.
No, they favor the genuine article, which is created from just natural materials. They were motivated to launch Sweet Valley Ice Cream by this passion.
In their own ice cream truck that they now drive around, they now serve delicious delicacies that are created in Bloomington, Indiana. It should be emphasized that even a scoop of chocolate or vanilla ice cream in this location is far superior to the standard.
There are plenty of imaginative possibilities, though, if you're feeling daring. A scoop of sweet cream is available for some silky, sugary pleasure.
Consider a chocolate-covered cherry for a creative way to combine chocolate and fruit. Love butterscotch? Get them frozen into ice cream. But really, each taste is worthwhile trying at least once.
So head over to Sweet Valley Ice Cream and start working. To bring this diverse cuisine right to you and your guests, you might even have them cater your event. It will result in a gorgeous dessert presentation that guests will adore.
You Should Try
Banana Cream Pie: This dessert combines a velvety scoop of ice cream with a hint of banana sweetness for a pleasing flavor.
Broomsticks Bakery
Broomsticks Bakery emerges directly from the enchanted forest into Bloomington, Indiana, conjuring up magical baked goods including cookies, cinnamon rolls, and brownies. Keep Hansel and Gretel away from this witch's mobile house. They will happily consume it.
Bea's Soda Bar
You can get the best of your favorite fizzy beverage at Bea's Soda Bar! Bea's boasts handcrafted soda creations like no other soda fountain, and it has a retro soda fountain with a contemporary mobile aesthetic.
Bea's Soda Bar offers a terrific, welcoming ambiance in addition to its exquisite shaved ice, waffles, and a changing selection of culinary goodies. Visit today to discover your new favorite mobile restaurant!
The Tamale Cart
The Tamale Cart is a food truck traveling the streets of Indiana serving you delectable fare and unforgettable fun. Every bite from this fantastic truck will be filled with delicious Mexican taste.
You'll always adore everything you get from The Tamale Cart, whether it's tamales, tacos, tortas, or anything else on their amazing menu!
---
Benefits of Food Truck Catering
Food truck catering is a great way to get your food service business off the ground without much investment. Not only can you provide high-quality, delicious food at a fraction of the cost of traditional catering, but you also have more flexibility in terms of scheduling and options for location.
Plus, with food truck catering, you can focus on providing excellent customer service rather than dealing with complex menu planning and setup logistics. So why not give food truck catering a try now? You're sure to love the benefits!
Catering for Special Events
Food trucks make great catering options for special events, whether it's a corporate event, a wedding reception, or any other type of affair. You can put together a delicious menu that perfectly matches the occasion and serve it from the comfort of your food truck. Plus, with food truck catering you can be sure that everyone who attends will have an amazing time!
---
Conclusion
In today's world, it's hard to find a good meal that doesn't require planning and coordination. That's why food catering is such a popular service! From catering for corporate events to satisfying home-cooked meals, food trucks offer an amazing variety of food that is sure to please. If you're looking for Bloomington food truck catering, make sure to check out our website and choose from the best options!