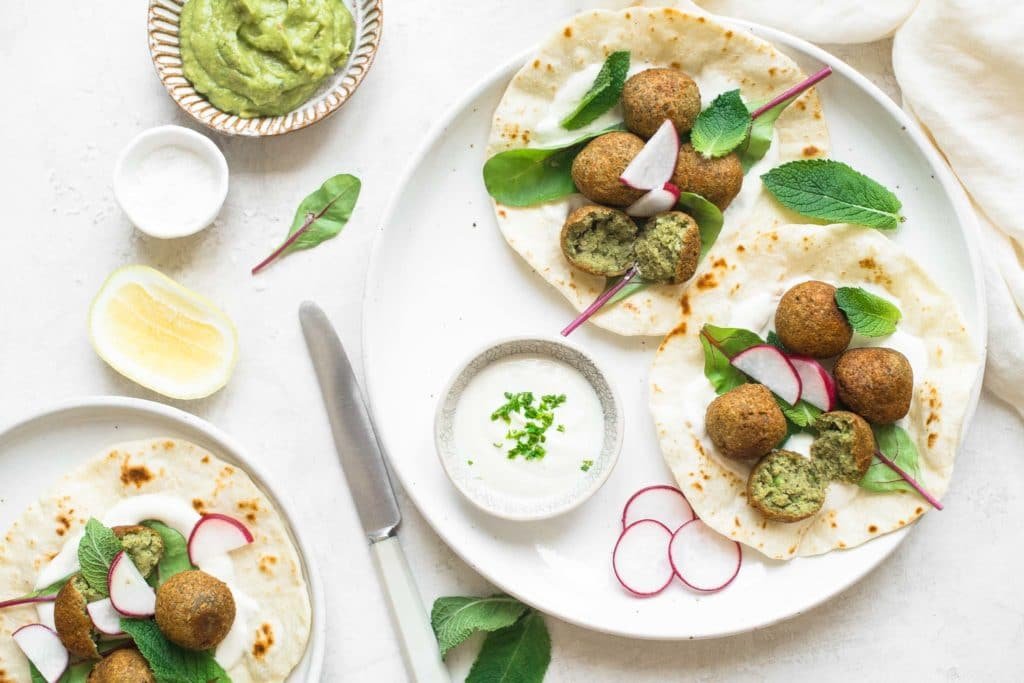 Breakfast isn't complete without falafel! This chickpea patties recipe is perfect for a quick and easy breakfast or snack, and it's also incredibly healthy.
Falafel is a vegan food made from chickpeas that have been dried and ground into a paste. It's popular in Middle Eastern cuisine and can be found in a variety of recipes—from falafel balls to falafel sandwiches. In this blog post, we'll tell you about falafel how to make a falafel sandwich for breakfast – an amazing and delicious way to start your day!
---
What is Falafel
Falafels are popular street food in many Mediterranean countries.
Falafel sandwiches are a must-try for anyone who loves food. They are healthy, and delicious, and can be paired with fruit or yogurt for extra sweetness and nutrition. What is falafel, you ask?
Falafel is a chickpea and fava bean mixture that is formed into a dough and deep-fried until golden brown. This results in the delicious falafel sandwich you love so much!
For a quick and easy falafel recipe, start by soaking chickpeas overnight. Then, mix chickpeas, fava beans, onion, garlic, cilantro, baking powder, salt, and baking soda in a food processor. Shape the mixture into small patties, and fry them in oil until golden brown. Serve on a toasted bun with yogurt, cucumber, and tomatoes, and enjoy!
---
Falafel How to Make Falafel Sandwich
Breakfast is the best time to enjoy a delicious falafel sandwich. Falafel is a popular Middle Eastern food that can be made into a delicious and healthy breakfast sandwich. Thick bread slices can be toasted and filled with falafel, hummus, tomatoes, and avocado. It's easy to customize this recipe to make it your own by adding other toppings like cheese or greens.
Eating falafel for breakfast is an easy way to get your daily dose of protein and healthy fats! So get cooking and enjoy a delicious and nutritious breakfast that will set you up for the day!
Ingredients:
1 large onion, diced
3 cloves garlic, minced
2 cups chickpeas, cooked and dried (or 2 cans chickpeas), drained and rinsed
1 t cumin seeds
1 t coriander seeds (cilantro) 1/4 t baking soda powder
1/4 t sea salt
1 lemon juice
3-5 tablespoons olive oil or vegan mayo
1 pita bread wrap, whole wheat, or any bread of your choice
Directions:
Preheat oven to 400 F and oil a baking sheet.
In a food processor, mix together onion, garlic, chickpeas (either dried or canned), cumin seeds, coriander seeds, baking soda powder, and salt until well combined. lemon juice to taste and 3-5 tablespoons olive oil/vegan mayo; set mixture aside for 5 minutes so that the flavors meld together.
Process the mixture again in a food processor just until it comes together as a dough.
Shape mixture into patties about 1/2 inch thick and place patties onto a prepared baking sheet. Bake for 20-25 minutes, or until golden brown and cooked through. Serve with vegan yogurt, cucumber, tomatoes (or any other toppings of your choice), and pita bread!
---
More Recipes for Falafel
If you're wanting to mix up your falafel recipe a bit, here are some other recipes you can try:
Spicy falafel bowl: Add cumin, chili pepper powder, and paprika for an extra kick of spice.
Zesty garlic chickpea falafels: Garlic is another delicious addition that will add flavor to the chickpeas. Enliven them with lemon juice and fresh parsley for zing.
Greek tzatziki sauce vegan falafel patties: These patties are perfect for a vegan tzatziki sauce. Simply mix chickpeas, bread crumbs, herbs (parsley and dill), olive oil, lemon juice, salt, and pepper until well combined. Shape the patties mixture into balls then fry in hot oil until golden brown. Serve with fresh greens on a toasted bun for an easy breakfast or lunch!
Caribbean falafel patties: Spice up your falafel recipe with fresh cilantro, pepper, and garlic. These patties are perfect for a Caribbean-inspired lunch or dinner.
---
Frequently Asked Questions
How can falafel be incorporated into a healthy breakfast menu?
Falafel is a great way to start your day as it's low in calories and high in protein. Falafel can also be used as an appetizer, side dish, or even sandwich filling. You can make falafel at home with simple ingredients like ground chickpeas, garlic, salt, and onion powder. Falafel can also be served warm or chilled for a refreshing breakfast option.
Can falafel be frozen or reheated?
Yes, falafel can be frozen and reheated. To freeze falafel, first, make them into balls and then put them in an airtight container. Reheat falafel by placing them on a baking sheet and baking at 375 degrees Fahrenheit for about 15 minutes or until heated through.
Is there anything I should avoid when making my Falafel Sandwich?
There are a few things that you should avoid when making your Falafel Sandwich.
Always make sure that your spices are fresh before using them in food. Spoiled herbs will ruin the taste of your recipe and may even cause food poisoning.
Make sure to use a nonstick pan when frying the falafel so that they don't stick and turn into a mess. Skipping this step can also lead to falafel sticking to the pan and becoming difficult to remove.
You can add any veggies you like to your Falafel Sandwich, but remember to compensate with carbohydrates such as hummus or fruit for sweetness. Adding too many vegetables can make the falafel dry and flavorless.
---
Conclusion
Falafel is a popular Middle Eastern food that is made from ground chickpeas. It is typically breaded and then fried, and is often served as a sandwich or as part of a mezze plate. This falafel recipe is the perfect healthy and delicious way to start your day! Not only is it delicious, but it's also packed with protein and healthy fats. So next time you're looking for a quick and easy breakfast recipe, make falafel!