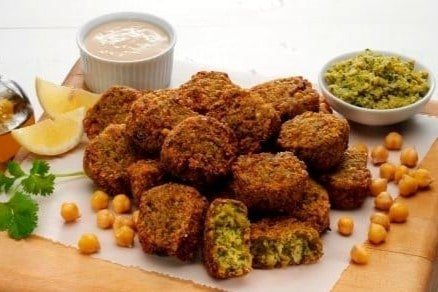 Are you looking for a falafel restaurant near you? Well, look no further! This blog has all the information you need about Falafel Hut restaurants in the US. From detailed Falafel Hut menu listings to contact details, this blog has it all.
So whether you're in the mood for classic falafel or anything about Middle Eastern food, this blog is sure to have the dish you're craving. Bon appétit!
---
Falafel Hut Locations in the US
If you're in the mood for some delicious falafel, you're in luck! Falafel Huts are a popular food option and can be found in many locations throughout the United States. Be sure to check the location's website or Facebook page to find out where the nearest falafel hut is located.
The menu features classic falafel sandwiches, plus unique options like chicken or lamb balls. Prices vary depending on the location, but all huts offer affordable lunch specials. Whether you're looking for a quick and easy lunch option or a more indulgent meal, a falafel hut is definitely the place to go!
Falafel Hut – Montclair
If you're in the mood for some delicious Middle Eastern food, make sure to head to one of Falafel Hut's locations near you!
This restaurant is popular for its falafel sandwiches and more – so whatever your appetite might be, chances are they've got something that'll fit the bill. Plus, with multiple locations across the US, it's easy to find a location that suits your needs.
Address: 3813, 213 Bellevue Ave # 4, Montclair, NJ 07043
Website: falafelhutnj.com
Phone: (973) 746-7730
Falafel Hut – Saginaw, MI
If you're in the mood for some delicious falafel, be sure to head over to the Falafel Hut in Saginaw, MI. You can order your food online or in-store – it's that simple!
Plus, if you want something more substantial, they've got a wide variety of menu items available too. And don't forget their amazing prices – there's no better way to spend your lunch hour than at this restaurant!
Located in: SVRC Marketplace
Address: 203 S Washington Ave, Saginaw, MI 48607
Website: thefalafelhut.com
Phone: (989) 392-5397
Falafel Hut – Santa Rosa, CA
If you're in the mood for some delicious falafel, the Falafel Hut is definitely where you need to be! They have a wide variety of toppings and sides to choose from, so there's sure to be something that appeals to your taste.
Plus, their restaurant is open from 11:00 am – 8:00 pm which means you can always find somewhere nearby to grab a bite. You can also check out their website or Facebook page for more information on locations and hours.
Address: 701 4th St, Santa Rosa, CA 95404
Website: falafelhut.co
Phone: (707) 237-7010
Falafel Hut – San Rafael, CA
If you're in the mood for some delicious falafel, Falafel Hut should definitely be on your list of restaurants to try. This Falafel Hut offers everything from casual diners who just want a quick bite to eat to those who are looking for something more substantial.
Address: 1115 4th St, San Rafael, CA 94901
Website: falafelhut.co
Phone: (415) 259-0440
---
Falafel Hut Menu Detail
To get the details on the Falafel Hut menu for every restaurant, you can check out their websites. Often, restaurants list their full menu online.
For example, Falafel Hut Montair. You may feel confident that you're getting the finest cuisine available since everything on the menu is made with care. There's something for everyone at Falafel, Shawarma, and Kababs.
---
Conclusion
Falafel hut menus are a popular choice for fast food lovers all over the world. If you're looking for a delicious falafel dish without spending too much money, try browsing our website for a list of falafel hut locations in the US.
Along with detailed menus, we also provide directions to the nearest falafel hut for you. So, whether you're in the mood for a quick snack or a full meal, our website is the perfect place to start!