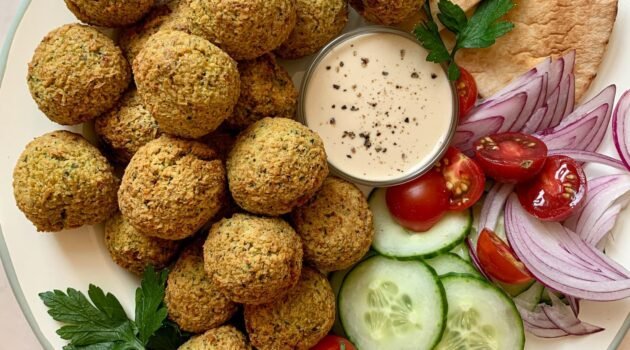 Falaffel or falafel is a popular Middle Eastern dish made from ground chickpeas that are shaped into a ball and fried. Falafel is usually served with tahini sauce, pickles, tomatoes, and a Hebrew salad.
The falafel is often called the best food in town because of its juicy texture and its many different toppings. If you're ever in town and want to try the best falafel around, this blog post is for you! Read on to learn more about falafel history, the toppings, how to make it, why it is so popular, and some of the best falafel places in town. Happy eating!
---
Falaffel
Everyone's favorite street food is falafel. It's crispy on the outside and soft on the inside, and can be made with a variety of ingredients. If you're looking for something new to try, give falafel a go! There are many variations of this Middle Eastern specialty, so find the one that's perfect for you.
The falafel at your local restaurant will be crispy on the outside and soft on the inside. It's a great option for vegetarians and vegans, as the dough is made without any animal products. Falafel is a popular street food made from deep-fried balls of dough, so grab a bag and try it today!
---
History of falafel
Although the precise origins of falafel are uncertain, there are a lot of widely accepted ideas. The majority of these theories concur that falafel originated in Egypt. The issue of when and by whom, however, is somewhat disputed. Some claim that it originated with the Egyptian Copts, who imported it from the Middle East, some 1,000 years ago. Some claim that falafel originated in India in the sixth century.
According to one of the more widely acknowledged versions, falafel was created in more recent history, around the late 19th century. Approximately about this period, immediately following the British occupation in 1882, the dish first appeared in works of Egyptian literature.
This idea holds that British officers requested their Egyptian cooks to make a dish using local ingredients since they liked fried vegetable croquettes while they were in India.
The city with the highest concentration of European troops, Alexandria, which serves as Egypt's main port, is thought to be where falafel originally gained popularity.
This original falafel was made with fava beans instead of many of the popular varieties that are commonly found in modern falafel restaurants. Since fava beans are known as ful in Egyptian, it is thought that the word falafel originated from these traditional Mediterranean dishes.
---
Falafel Made from Chickpeas
Protein, fiber, and complex carbs are all abundant in falafel. Chickpeas have very little fat and no cholesterol. Iron, magnesium, phosphorus, potassium, zinc, copper, manganese, vitamin C, thiamine, pantothenic acid, vitamin B, and folate are just a few of the minerals present.
How soft do chickpeas need to be for falafel?
The chickpeas should still have some bite to them but be soft enough to break apart with your fingertips. Making tzatziki, chopping tomatoes and lettuce, and assembling the remaining falafel components can all be done while the chickpeas are soaking.
You may get the greatest texture and flavor by soaking dry chickpeas in water for 24 hours. Since dry chickpeas are naturally starchy, they will assist in keeping the shape of your falafels.
Why making falafel with baking soda before frying is crucial?
A significant issue is resolved by increasing the mixture's pH: Without baking soda, it will be challenging for the raw, soaked chickpeas to fully cook in such a brief deep fry.
Why can't you use canned chickpeas for falafel?
Falafel cannot be made with chickpeas from cans. They are way too drenched. Falafel pancakes will turn up sad if you attempt to make them with canned chickpeas rather than dried and soaked chickpeas. Some recipes attempt to balance the moisture by adding flour, although doing so drastically mutes the flavor and thickens the texture.
---
Falafel Toppings
Falafel is a popular Middle Eastern dish that is usually served as a sandwich or appetizer. It is made from ground chickpeas and spices and can be topped with many different ingredients. Some popular falafel toppings include hummus, tahini sauce, salsa, pickles, and more. Whether you're looking for a savory snack or a delicious appetizer, falafel is a great option.
Below are some toppings that are suitable for your falafel:
Hummus
A rich, creamy paste, hummus is bursting with umami flavor. Hummus has a smooth texture that goes well with crunchy pita and fresh vegetables. It is garlicky, tangy, and flavorful. You can't easily compare its unique flavor to that of other foods, so try some hummus instead!
Tahini
Tahini, also known as "tahina" in some countries, resembles peanut butter visually but not in flavor. The nutty flavor of tahini is robust, earthy, and even harsh. It is not sweet like most nut butter. However, if the bitterness is particularly severe, that may indicate that the sample has aged or expired.
Salsa
Due to the prevalence of hot chili peppers in their ingredients, most salsas are quite spicy. There are literally hundreds of these sauces, including tangy fruit salsas.
Salsa, which translates to "sauce" in Spanish, is a mixture of whole and chopped fruits, vegetables, or both that are used to enhance the flavor of a range of cuisines.
Pickles
Pickles are a tasty snack that can improve nearly any dish. Pickles are a fantastic accompaniment to any meal or appetizer, from grilled burgers to upscale charcuterie boards. Everyone can find a favorite pickle flavor thanks to sweet bread & butter pickles, hot and spicy pickles, and sour dill pickles.
Tabouli
Middle Eastern mainstay salad tabouli is usually offered as a side salad or as part of a mezze plate. A salad unlike any other is created when natural tomato juices, freshly squeezed lemon juice, and fresh herbs are combined with fresh herbs. Bulgar wheat adds a nutty flavor.
---
How to Make Falafel
Falafel – a delicious Middle Eastern food that's easy to make at home. falafel is a popular food in many parts of the world, and for good reason! All you need are some simple ingredients, and following these simple steps will result in delicious falafel balls.
Begin by introducing the chickpeas into a food processor, and processing until they are ground into a mixture that resembles breadcrumbs. If you don't have a food processor available, you can also use your hands to mix everything together well.
Add in herbs and spices of your choice – parsley, cilantro, chili powder, paprika, etc – and mix them in well. This will give your falafel its unique flavor profile!
Now it's time to heat up some oil in a frying pan over medium heat. Once hot, add in the chickpea mixture and press it down into balls. Be sure to use a frying pan that is large enough to accommodate all of the falafel balls at once, as they will cook quickly.
Cook the falafel balls for about 8 minutes on each side until golden brown and crisp. Serve them warm, topped with your favorite sauce or dipping sauce! Enjoy!
---
Why is Falafel so Popular
The Yemeni Jews started serving falafel balls on pita in the 1950s, which helped falafel gain popularity. Due to this quick and simple method, falafel has gained popularity as a Middle Eastern street snack.
Why do people eat falafel?
The cuisine known as falafel is now regarded as being indigenous to Egypt, Israel, and the State of Palestine. Israeli cuisine is famous for its falafel, which is commonly regarded as the nation's national dish. Mizrahi Jews have historically consumed it in the Middle East and North Africa.
In the Middle East and Mediterranean regions, falafel is highly well-liked. They are a well-liked street snack, a side dish with soft beverages, a popular snack for special feasts, and a savory appetizer for mezze trays. People adore this snack's crunchy texture, herbaceous flavor, and great nutritional value.
Is falafel popular in the USA? The dish is now a typical and well-liked street cuisine in many North American towns.
Actually, the dissemination of food rose dramatically as the number of Arabs in the diaspora increased. Additionally, more Americans are visiting the Arab World and developing a passion for its cuisine.
These Americans include some who work for the State Department, are in the corporate world, work for charities, and are merely vacationers. When they return, they enjoy making it at home or eating it in Middle Eastern restaurants. Nowadays, it's almost impossible to attend a reception without being offered Arab food such as falafel, hummus, or tabbouleh salad.
---
Conclusion
Falafel is a popular Middle Eastern dish that is made from ground chickpeas. It is typically deep-fried and served with a variety of toppings, such as Tahini sauce, salsa, or hummus. Falafel is a delicious and healthy snack that can be enjoyed at any time of the day. If you're looking for the best falafel in town, make sure to check out our blog! We have detailed instructions on how to make falafel and provide helpful tips on how to enjoy it to its fullest potential. Don't miss out!
Don't forget to check out more articles on our blog, Falafelsonline.com.