Falafel Mistakes You Should Avoid Doing – Falafel is a classic Middle Eastern dish that is often served as part of a sandwich in pita or on its own with a salad and dipping sauce. Everyone loves a good falafel from a restaurant or food stand, but people have different ideas about how to make them at home. They can be a huge hit or a disaster for people who cook at home. Falafel is perfect when it has a crispy outside and a chunky inside. Here are some tips and tricks that will help you make falafels like a pro and get the best results.
Which beans should I use?
Falafel can be made with either chickpeas or fava beans, or with a mixture of both. The beans should be raw, dry, and not already cooked.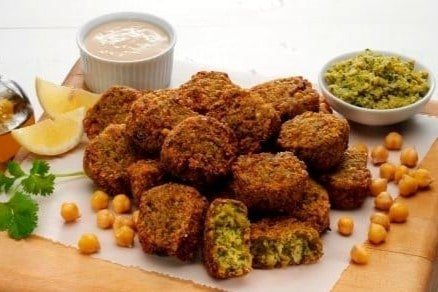 How should the beans be ground?
If you have a stand mixer, look in your cabinets for the grinder attachment that usually comes with it. A meat grinder is the best way to get the right texture for falafel.
But, right? Not everybody has a meat grinder.
Use the food processor you usually use to chop and grind things. If the amount is small, try it in small amounts and then mix everything together in a separate bowl. For the final mix, an emulsifier would be very helpful.
What kind of texture do you want?
When the beans are ground or processed, the end result should be more like a fine, crumbly mixture than a paste. But don't make it too coarse because the chickpea pieces tend to get bigger as they fry.
What spices should I use?
All depends on you! Here is the basic recipe. You can change the flavours to your liking, but don't go overboard. Keeping to spices from the Middle East and the Levant will help you enjoy the real thing.
We all have the skill to roll with our hands, so don't worry if you can't find a falafel maker. Dip your hands in water after making each ball so they don't get sticky, and make sure there are no cracks on the surface of the balls.
Another way is to use two spoons. With this method, you use one spoon to scoop out some of the mixture and then the other spoon to lift it. Play until you get an oval with a smooth surface. Then carefully slide into the oil.
How do you make falafel?
You have baked falafel and shallow-fried them, and both times they turned out great. I believe you! But don't tell me that it doesn't taste like the real thing. When the raw bean mixture swims in a pool of hot oil, it gets a texture that can't be beat. So, yes, you should definitely deep fry!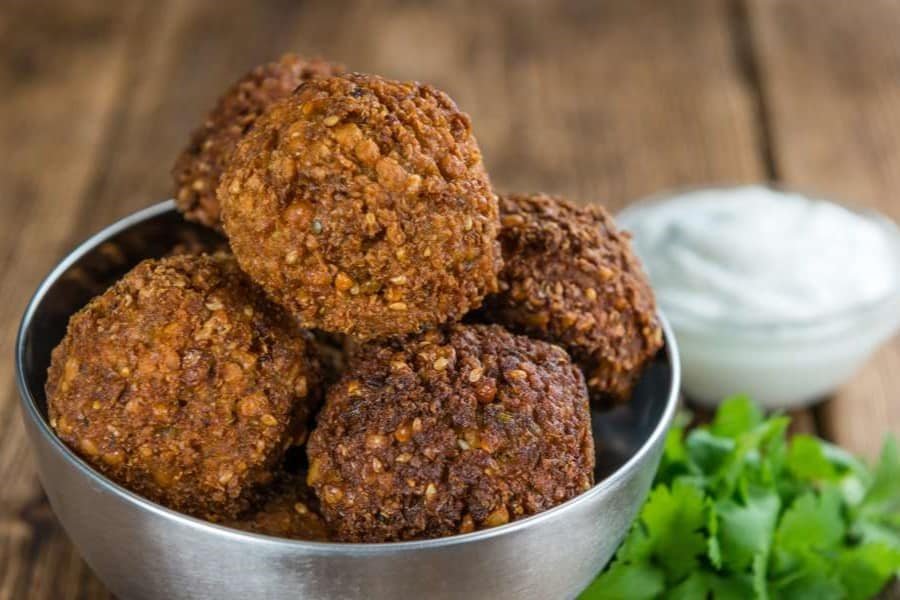 Please remember that you are dealing with beans that have not been cooked. Give them 5–6 minutes to cook all the way through to avoid stomach aches.
Falafel are best when they are still warm and crispy right after they are made. Obviously, you can't serve the whole family at once, and you can't throw a party and expect to stand in the kitchen frying falafels for everyone. If so, let them drain on a wire rack instead of a paper towel after frying. This will keep them from getting soggy. And put in the oven to keep warm.
Freeze or not ?
From my point of view, yes!
Falafel is easy to make, but it takes a long time, so I like to make a lot at once. Fry them all, let them cool on a wire rack, and then put them in bags that can be put in the freezer so you can use them later. Then put them straight into the oven.
Here is a family recipe that was passed down from my very dear mother-in-law. She has been gone for a long time, but her recipes and cooking tips have always been the best.
Falafel Recipe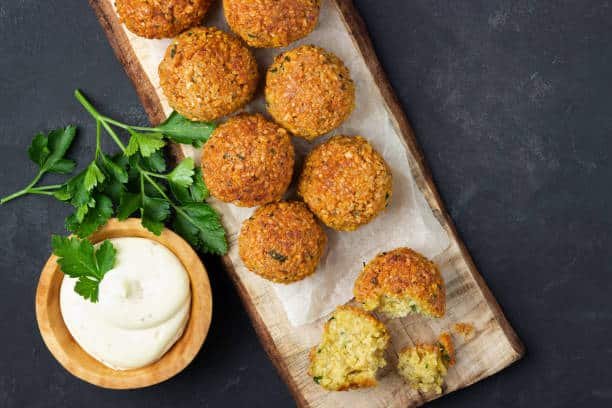 Ingredients
1 12 cups dried chickpeas that have been washed and soaked for a night
12 cup green coriander, chopped
12 cup parsley, chopped
3–4 garlic cloves
2 small chopped onions
2 tsp salt
½ tsp black pepper
½ tsp cayenne pepper
1 chopped green chilli
1 12 tsp powdered roasted cumin
2 tablespoons ground coriander
6 tablespoons of breadcrumbs
Oil for deep frying
Instructions
Wash the chickpeas and let them soak in water for at least 8 hours. They will get three times as big. Pour the water out and wash them again. DO NOT use chickpeas that have been canned or boiled!
Put the beans in a food processor and chop them up until they are small and crumbly.
Chopped up some coriander, parsley, garlic cloves, onion, and green chilli.
Use a food processor to mix all of these together. Then add to the chickpea flour.
Salt, pepper, coriander, and roasted cumin powder should be added to the mixture after it is all mixed together.
Form into round balls or ovals by rolling between your hands or using two spoons or a falafel maker.
Set the heat to medium for the deep-frying oil.
Fry the falafels in small groups over medium heat until the outsides are golden brown and crispy. DO NOT fill the pan too much!
Take them out and put them on a wire rack so they don't get soggy.
Serve hot with a sauce made of yoghurt and tahini.
Falafel Mistakes You Should Avoid Doing
Do not use canned or already cooked chickpeas. The key to making real falafels is to put the dried ones back in water.
If your food processor isn't big enough or strong enough to chop all the ingredients at once, do it in small batches and mix them in a separate bowl.
You can put the beans and other ingredients through your meat grinder to chop them up.
The recipe is easy to multiply.
You can also put the fried falafels in the freezer. Put it in the oven without letting it thaw, and heat it at 140 C until it's crispy. Read: how to make falafel without frying.